Offshore oil and gas operators are looked at as trusted and reliable safety leaders within aviation. Passenger transport requires operators to explore and develop novel ways to ensure the safety of passenger and crew onboard their aircraft, especially when those flights are conducted over bodies of water to offshore platforms. These flights are generally conducted over challenging, remote environmental conditions, such as the North Sea. As such, many oil and gas operators require advanced and innovative technologies to provide world-class transportation. In addition, the highly competitive segment requires operators to be ahead of the technological curve, which provides greater opportunities to secure long term contracts.
Iridium Certus Midband Satcom Terminal – SKYTRAC ISAT-200A-08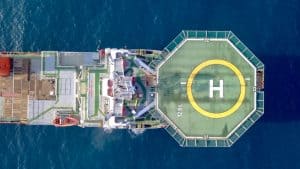 Iridium Certus is one such enabler of the technology offshore transport companies use during their flights. The Iridium Certus midband class, which provides 22 Kbps from and 88 Kbps to the aircraft, allows offshore oil and gas transport companies with true, global connectivity with 99.9% reliability, even in the world's most remote regions. The midband service class, which can downlink data at nearly 10 times that of the widely used Iridium narrowband service class (2.4 Kbps), enables operators to future-proof their connectivity with higher bandwidth rates. This increased data pipe can enable new technologies, such as rich flight data monitoring (FDM) and real-time health and usage monitoring system (HUMS) alerts, directly to the operational control center. Advanced graphical weather capabilities also allows pilots to circumnavigate rapidly evolving weather conditions while transporting passengers to and from offshore platforms. This live data can drastically increase situational awareness for pilots as well as ground control.
The Next Frontier – SKYTRAC SDL-350
SKYTRAC is introducing an all-new broadband Iridium Certus Satcom system, the SDL-350. This terminal is set to be the first-to-market Iridium Certus terminal for the aviation market and is capable of of speeds up to 704 kbps. The SDL-350 offers reliable, pole-to-pole connectivity. The 2 MCU Satcom system operates with small low-gain antennas that provide less drag on aircraft, delivering fuel and cost efficiencies on both fixed-wing and rotary-wing aircraft. the SDL also enables advanced graphical either, black box streaming, VoIP communications, as well as traditional capabilities like automated flight following, operational loads monitoring, and more.
SKYTRAC's SDL-350, the latest flagship Satcom systems, can enable VoIP communications, rich real-time alerting, file and image transfer, EFB automation, marine AIS, and more. SKYTRAC's Rendezvous flight tracking can also sync aircraft flight paths to moving vessels for safe return flights. Marine AIS technology can aid aircraft in avoiding wrong deck landings and locate offshore platforms. These unplanned landings can cause severe injuries onboard vessels not ready for an aircraft to land. In addition, diplomatic tensions can arise between organizations from an easily avoidable pilot error.
Of particular importance to offshore oil and gas transport organizations is rich real-time alerting. Traditionally, flight data monitoring and HUMS exceedances alerted OCCs through text or email whenever a detection occurred. Due to the data limitations of the narrowband service class, these messages contained limited actionable intelligence. Now, these same messages can contain an operational snapshot of the entire aircraft, allowing ground and maintenance crews extensive insight into how the aircraft is functioning, ensuring the safety of those on board.
SKYTRAC's PTT capabilities offers operators crystal clear and highly reliable one-touch communication in lieu of manual voice calls, enabling valuable operational efficiencies and increasing pilot safety while in the air. The globally reliable connectivity works in even the most remote regions of the planet with military-grade cybersecurity and less than 2-millisecond latency, making it one of the most sought-after PTT solutions available.
The ISAT-200A-08's midband bandwidth allows operators to access richer data than previous Iridium Satcom terminals. The customizability of the SDL-350 ensures operators can integrate and/or develop applications as required.
For more information on the SDL-350, please contact a SKYTRAC expert at connect@skytrac.ca.

Speak with a connectivity expert today. We are eager to discuss your business needs.