Gain a compliant FDM/FOQA program for rich, web-based insights into your flight operations.
Implement Leading Flight Data Monitoring Programs
Tailored to operational needs, SAFR FDM is a web-based platform providing complete insight into your flight operations.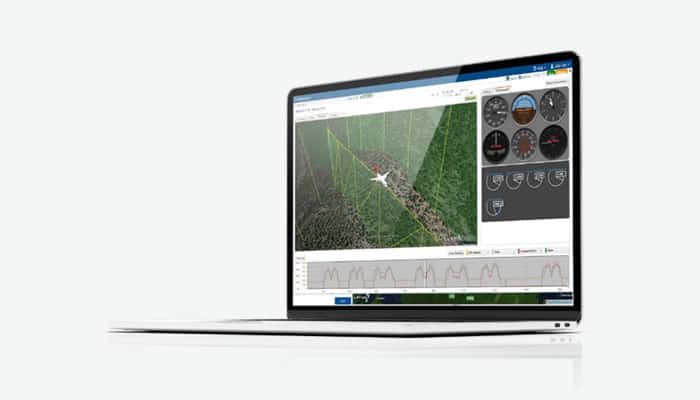 Keep your flight data secure and meet compliance requirements. SAFR FDM enables world-class flight data monitoring programs with leading cybersecurity so you can be sure your flight data remains in your hands.
360° View of your Flight Ops
Gain real-time insights into all flights, flight paths, and flight operations with SAFR FDM. Review and replay all flights in 2D and 3D playback with live instrument controls so you can see in-depth aircraft operation.
There's never enough data. With the ability to configure thousands of custom parameters to match your operation, you can identify high risk events and categorize exceedances by impact to your organization.
SKYTRAC holds STCs for over 900 airframes. If you aircraft doesn't have an STC for hardware that enables SAFR FDM Essentials or Plus, our program managers will be able to assist you in the successful procurement as needed.
Access deep data insights through built-for-you reports. SAFR FDM features sophisticated interactive graphics so you and your management team can assess the performance of your flight operations.
Reduce costs including aircraft maintenance, insurance, and manual offloading of data with SAFR FDM. Enable post-flight file transmission through the Iridium satellite network or through cellular/Wi-Fi connectivity.
Access a live SAFR demo with one of our experienced flight data program managers. See how your organization can benefit from the various features and learn the difference between SAFR Essentials and SAFR Plus.
Built for organizations with in-house flight data analysts, SAFR Essentials provides you with everything required to run an effective flight data monitoring program. Access SAFR FDM with no IT configuration required.
SAFR FDM Plus is designed to provide dedicated analyst services for flight data monitoring. A dedicated program manager acts as your in-house flight data analyst without the need to onboard full-time staff.
Unlock hidden value in flight data to find answers, monitor trends and surface patterns with the world's newest Flight Data Monitoring engine.
Speak with a connectivity expert today. We are eager to discuss your business needs.