High-resolution cockpit and aircraft video cameras have improved flight data monitoring capabilities to aid in operational surveillance and to answer critical questions during incident investigations. This technology has become more common in today's airspace, as in-flight video recordings have invaluable in determining aircraft safety and maintenance, while providing cost-saving insights and pilot job stability.
Traditional flight data recorders that combine voice and engine data offer insights that can assist in incident investigations. However, cockpit visuals offer much more information for reviewing operational procedures and critical inquiries. Cockpit visuals can also complement or replace flight data monitoring equipment, particularly on older aircraft where robust data collection is not as easy to configure.
Watch a demo for SKYTRAC's Cockpit Camera ⬇️
Limited data storage and streaming capabilities can also limit the quality of flight data. Furthermore, if data is stored solely on this device, it can be lost in an accident or investigations can be delayed.
Today, SKYTRAC's Iridium Certus SATCOM systems provide solutions for capturing and relaying cockpit video feeds to operators worldwide in real-time. And with multiple video surveillance options, safety personnel and flight data analysis can link high-quality video and audio data to events for a more comprehensive and sophisticated aircraft investigation.
SKYTRAC's DO-160G approved high-resolution FDM flush-mounted image sensors allow for virtual 2D/3D flight instrument playback capabilities of cockpit visuals to create a thorough and robust flight data monitoring system. The aluminum casing unit is designed to withstand vibration, shock, and operating temperature fluctuations to provide strong support to operators in varying environments. Its potent storage capabilities enable up to 8 hours of recording data at 1080p and supports two 128 GB memory cards. Its video compressions options include H.264 (MPEG-4 Part 10/AVC) baseline and high-resolution video and still (JPEG) abilities to deliver multiple viewing platform advantages.
The unit also pairs with multiple lenses, providing operators the option to target and optimize their vantage points. DO-160G approved lens options include the standard 113 lens, which is ideal for standard activity monitoring or for supplementary HD camera to fill blind spots. A zoom lens can be used for detailed visualization of in-flight monitors, cockpit dashboard, and pilot controls. For a broad perspective, the fish-eye lens can also be utilized on the aircraft's interior or exterior to capture engine, rotor blade activity, or long-line activity. Wide lens and fine-detail image sensor kits are also available to capture a maximum field of view and record cockpit controls.
Camera technology onboard any aircraft could be one of the best investments and insurance measures to manage an operation. In addition, they provide options for operators to enable older aircraft with compliant flight data monitoring or flight operation quality assurance (FOQA) programs.
For more information, visit skytrac.ca/skytrac-inflight-cameras or contact a SKYTRAC expert at connect@skytrac.ca.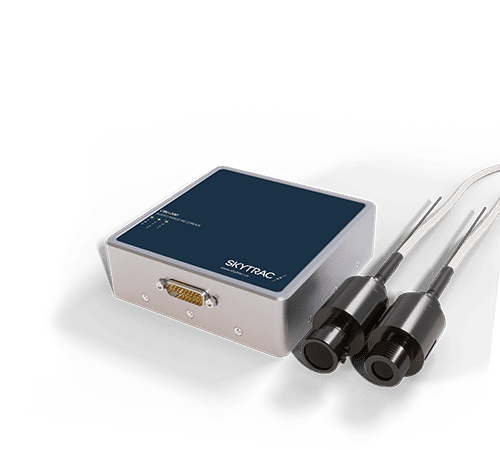 Speak with a connectivity expert today. We are eager to discuss your business needs.