Artificial Intelligence (AI) and Sensor Fusion
Seamlessly fuse, process, and analyze camera and sensor data globally, with minimal latency. 
ONBOARD AI AND SENSOR FUSION
Real-Time Onboard AI Processing of Video and Image Data
Collect onboard data from aircraft sensors to fuse data through SKYTRAC Satcom terminals for viewing all mission data in one common operating picture,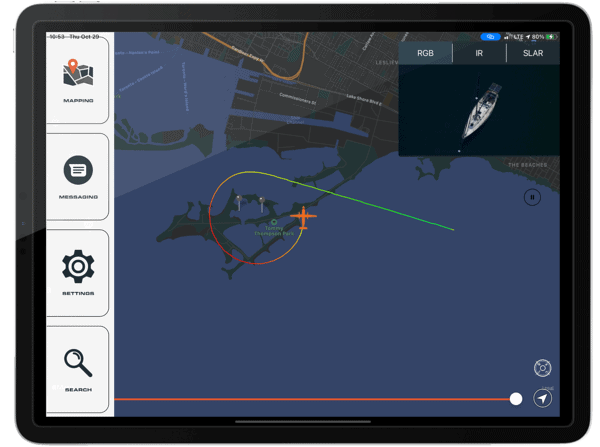 AI AND SENSOR FUSION CAPABILITIES
Onboard Processing of Data using AI and Sensor Fusion
SKYTRAC's all-in-one Satcom solutions enable leading capabilities without the need for additional hardware onboard aircraft.
Rich, Geotagged Data Collection
Automatically tag captured image and video files with integrated GPS metadata, making reviewing surveillance footage a breeze.
Multiple Sensor Inputs and Interfaces
Integrate multiple sensors and cameras including video feeds, electro-optical and infrared sensors, LiDAR, and more.
Upload Synthetic Images to Train AI
Generate and utilize synthetic images to train onboard AI for increased detection accuracy without the need for constant monitoring.
Automated Post-Mission Analysis
Receive automated alerts and insights when cameras detect pertinent images and objects, saving data analysts time. 
Truly Global, Pole-to-Pole Satcom Connectivity
Leverage pole-to-pole Satellite Connectivity with up to 704 Kbps of bandwidth with SKYTRAC's leading Iridium Certus terminals.
Utilize SKYTRAC Iridium Certus connectivity for rich, real-time video that can be downlinked to fleets and command stations.
Process electro-optical (EO), infrared (IR), ultraviolet (UV), and side-looking airborne radar (SLAR) to provide integrated live tracking and alerting.
Contact a SKYTRAC technical expert to request a demo to see how your organization can leverage artificial intelligence and sensor fusion.
Enable AI-powered land and marine surveillance, patrolling, and automated detection with SKYTRAC for your fixed-wing, rotorcraft, or unmanned aviation segments.
Speak with a connectivity expert today. We are eager to discuss your business needs.