Combatting a wildfire by air requires aggressive, reliable, and rugged technology in mission-critical environments. Operators have traditionally relied on Satcom connectivity for surveying, aircraft tracking, voice communications, operational loads monitoring data, fire attack data, tank drop data, and more. In addition, connectivity is required in remote regions, in severe weather with high winds, and extremely low visibility due to smoky conditions. These capabilities have been available to operators for a number of years through Iridium's narrowband service class, which offers a bandwidth of only 2.4 Kbps to and from the aircraft. To put that in perspective, it would take about 20 minutes to download one MP3 file with that bandwidth throughput. The ingenuity of engineering has allowed remarkable capabilities through utilizing only a fraction of what is possible today. With the launch of Iridium Certus, the future of aerial firefighting will be drastically different, giving operators powerful new tools with high-resolution multi-spectral imaging and live video transmission.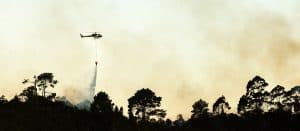 Iridium Certus, the only truly globally available solution, provides operators with the same 99.9% reliability and ~2ms latency as narrowband connectivity, but now at speeds of up to 704 Kbps. That same MP3 that previously took 20 minutes to download, would now take you only ~4 seconds.
This increase in bandwidth will enable new capabilities for aerial firefighting, while retaining all of the capabilities that have made aerial firefighting into the industry it is today.
Artificial Intelligence powered Intelligence, Surveillance, and Reconnaissance (ISR)
SKYTRAC's SDL-350 enables a whole new host of capabilities, starting with real-time onboard image and video processing with artificial intelligence. Multiple data inputs from sensors and cameras around the aircraft are collected and sent to the SDL-350 for real-time processing. Once processed inflight, data is downlinked through the Iridium satellite network to ground and command stations. Images, videos, and other data can then be visualized, with simultaneous high definition and infrared video and geolocated data converted into one rich data feed.
The onboard AI software can be trained to automatically detect and alert command and control of fires in the region, allowing operational efficiencies on the ground by reducing analyst workload. Automatic detection and mapping of fire, water, and boundaries through multiple feeds, including electro-optical (EO) and Infrared (IR) sensors, can help command and control centers make data-driven decisions in real-time to reduce risk and combat wildfires with precision.
Sensor Fusion
Sensor fusion technologies enable an operator to overlay and visualize multiple sets of data. The ability to harmonize various data sets in one frame allows operators to make sound operational decisions in mission-critical settings. When multiple sensors, such as video cameras, EO/IR sensors, and LiDAR, are brought together into one input for a single model of the environment around an aircraft, the resulting model is more accurate because it can balance the strengths of the different sensors. This is invaluable to ground support teams and pilots.
SKYTRAC SDL-350
SKYTRAC is introducing an all-new broadband Iridium Certus Satcom system, the SDL-350. This terminal is set to be the first-to-market Iridium Certus terminal for the aviation market and is capable of speeds of up to 704 Kbps.
The SDL-350 offers reliable, pole-to-pole connectivity. The 2MCU Satcom system operates with small low-gain antennas that provide less drag on aircraft, delivering fuel and cost efficiencies on both fixed-wing and rotary-wing aircraft.
The SDL's global SATCOM connectivity enables birddogs to surveil remote regions and downlink data back to command to control centers. The SDL also enables advanced graphical weather, black box streaming, VoIP communications, as well as traditional capabilities like automated flight following, operational loads monitoring, fire and tank drop data, and more.
Safety and Value
The SDL's capabilities allow operators to significantly reduce the aerial resources required for a modernized and strategic wildfire air attack. Sensor fusing and AI technologies enable an operator to overlay and visualize multiple sets of data to make sound operational decisions in mission-critical settings, including the location of safe entry and exit points for crews.
The SDL-350 delivers powerful capabilities beyond narrowband connectivity to achieve higher performance, new capabilities, and increased safety in risk-heavy and mission-critical environments.
Want to learn more? Contact our team at connect@skytrac.ca.

Speak with a connectivity expert today. We are eager to discuss your business needs.