Iridium Certus® is a globally available broadband satellite service capable of up to 704 Kbps of bandwidth across aviation, maritime, land mobile, government, and IoT applications. Iridium Certus currently offers the fastest L-Band speeds available with a wide range of service classes addressing various customer budgets and needs. 
The Iridium Certus service, enabled by Iridium NEXT, is a unique, crosslinked mesh architecture constellation that encompasses 100% of the globe. The constellation consists of 66 active satellites in orbit at approximately 781 kilometers above Earth, effectively classifying the satellite constellation as Low Earth Orbit (LEO). This proximity ensures extremely low latency (0.5 seconds) and consistent connectivity, even in severe weather events. 

SKYTRAC Iridium Certus Satcom Terminals
As a value-added reseller of Iridium hardware and services for the aviation segment, SKYTRAC has both midband and broadband Iridium Certus solutions for manned (SDL-350/ISAT-200A-08) and unmanned aviation (IMS-350/DLS-100). To learn more about SKYTRAC Iridium Certus terminals for aviation, please download one of our product brochures or contact sales@skytrac.ca.
Advantages of Iridium Certus
Iridium Certus, a multi-service platform enabling mission-critical capabilities across hundreds of thousands of ground and air assets, features numerous advantages over legacy satellite network services. These advantages include:
High Reliability (99.9% uptime)

Low Latency (0.5 seconds)

Resilience (satellite crosslinking and dynamic routing)

Simplicity (omnidirectional antennas for communication on-the-move)

Visibility & Redundancy (dynamic constellation for connectivity and network flexibility in any landscape)

SWaP (low size, weight, and power transceivers and antennas)

Cost (competitive transceiver, antennas, terminals, service pricing)

Global Coverage (Inter-satellite links and meshed network provide truly global)

Operator Benefits
For operators looking for reliable, efficient satellite communications, Iridium Certus provides clear advantages in L-band speed, latency, and reliability. In addition, the LEO constellation allows operators to utilize much smaller antennas on aircraft, which is of particular importance in unmanned and rotorcraft applications.
For comparison, a typical GEO Satcom terminal weighs 3.2 kg, with an antenna size of 3,790 cm3 and latency of 2 seconds. SKYTRAC's Iridium Certus IMS-350 Satcom system weighs 1.36 kg, has an antenna size of 1,712 cm3, and a latency of only 0.5 seconds. This reduction of size and weight is enabled by the use of SKYTRAC Iridium Certus solutions. 

Rotorcraft Benefits
In helicopter operations, LEO constellations consistently outperform GEO constellations. In geosynchronous orbits, satellites are positioned directly above the aircraft. When satellite transmission is directed through the rotors, this can significantly attenuate throughput.
With the Iridium NEXT constellation, connectivity can be gained through satellites at the horizon, ensuring that satellite transmission does not pass through the rotors. This results in limited packet loss, jitter, or throughput issues from rotor shadowing. 
Iridium Certus Service Classes
Iridium Certus provides a range of service classes to fit operator budget and requirements, ranging from Iridium Certus 20 (midband) up to Iridium Certus 700 (broadband).
Iridium Certus service classes are capable of providing a wide range of functionality at these varying throughputs.

Iridium Certus Modems
There are currently two Iridium Certus modems available, the midband Iridium Certus 9770, and the broadband Iridium Certus 9810. The midband Iridium Certus modem provides 22 Kbps from an asset, and 88 Kbps to an asset, which can include manned and unmanned aircraft. The Iridium Certus 9810 modem is capable of providing 352 Kbps of bandwidth to, and 704 Kbps of bandwidth from, an asset. Previously, Iridium was only capable of delivering 2.4 Kbps through the Iridium 9523N modem. With the launch of Iridium NEXT, operators are able to leverage a profound leap in connectivity throughput.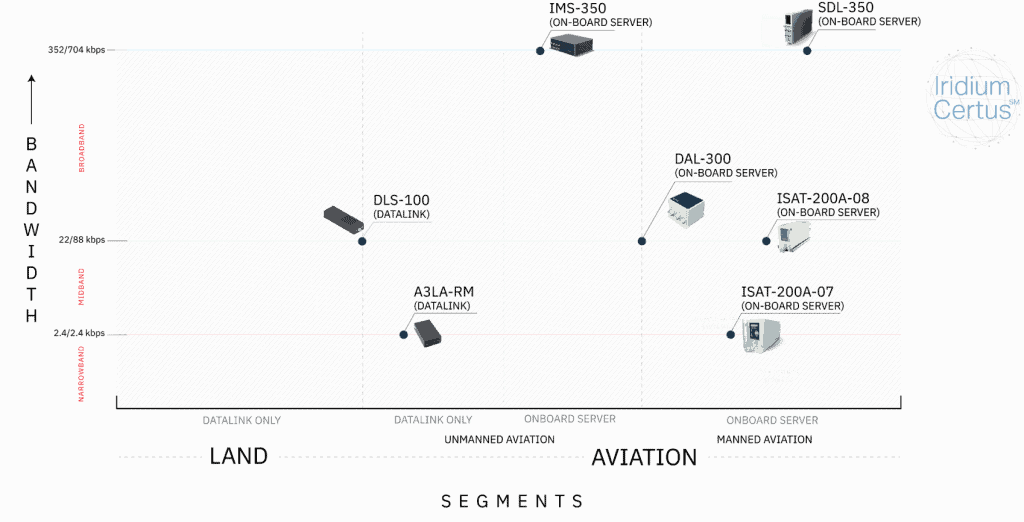 To learn more about SKYTRAC Iridium Certus terminals for aviation, please download one of our product brochures or contact sales@skytrac.ca.
Speak with a connectivity expert today. We are eager to discuss your business needs.