SKYTRAC's DLS-100 is a cutting-edge Iridium Certus midband data link transceiver that enables real-time command and control, telemetry streaming, and photo transfer capabilities from unmanned aircraft systems (UAS).
Designed for use with UAS, the cost-effective Iridium Certus modem provides pole-to-pole connectivity around the globe with 99.9% reliability and stunningly low latency. Its ruggedized and IP67 compliant modem enables 22 Kbps uplink and 88 Kbps downlink speeds for high-quality unmanned aerial vehicle (UAV) operation and data transmission to and from the aircraft. This unique UAV Satcom data link terminal is a remarkable option for operators seeking a reliable onboard terminal to access real-time flight data (including payload health monitoring), imagery, data transfer options, and more.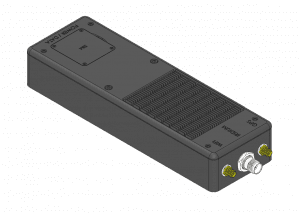 The DLS-100 Satcom transceiver is ideal for UAV operation. Operating on the Iridium Certus satellite network, the system is IP67compliant with an EMI shielded hard-anodized aluminum housing, delivering superior support within an airframe in all situations. Furthermore, the DLS-100's advanced connectivity options enable data streamlining services through Wi-Fi, 100BASE-T Ethernet, and RS-232 interfaces.
This bold new Iridium Certus option delivers highly accurate GPS/GNSS location abilities with DB-25 (custom pin-out for FS-232, Ethernet, and power) connectors and multiple discrete I/O inputs. The robust, compact modem is compatible with commercial and DoD SIM cards and features remote management functionality through web or software API as needed. The DLS-100 is also SWaP optimized and weighs only 26.2 oz (742.8 g), making it the ideal data link system for UAV's requiring global Satcom connectivity. To manage within a wide variety of environmental conditions, the DLS-100 handles operating temperatures between -4°F to 122° F (-20°C to 50°C).
The DLS-100's beyond visual line of sight (BVLOS) real-time capabilities provide optimal command and control (C2) for advanced UAV operation. The system's global network-based remote ID capabilities provide identification and streamlining of UAV location from anywhere on the planet. The DLS-100 is also designed to easily integrate with existing legacy sensors and servers onboard an aircraft to simplify the system's configuration.
SKYTRAC is an expert in providing Satcom connectivity for the aviation industry and has pioneered the development and commercialization of flight following, flight data, voice, and data communications technology. Today, SKYTRAC is a global leader in engineering Iridium Certus data link products and solutions for aerospace. The DLS-100 is part of SKYTRAC's UAV Satcom product portfolio which includes the IMS-350.
Download the Product Sheet Here: