Advances in global network infrastructure and technology have made high-speed cellular connectivity available around the world. At the same time, cellular data has enabled numerous capabilities for airlines and other aerospace organizations, making them more operationally efficient.
Therefore, today's aerospace organizations rely on cellular coverage for pre-and post-flight data offloading, Electronic Flight Bag (EFB) connectivity, on-the-ground communications, accessing enterprise servers, and much more. As technologies and capabilities advance, organizations become more and more reliant on access to fast, high-speed data streams. For organizations that operate locally, access to cellular data is generally cost-effective and easy to manage but becomes more complex as user load increases. Managing multiple accounts, invoices, IP whitelists and blacklists, and adjusting data limits on a user-to-user basis can pose additional challenges for organizations seeking to maximize operational efficiencies.
For companies that require global cellular connectivity (which includes airlines flying internationally), the cost of accessing high-speed data increases due to additional roaming fees, which can add another layer of inefficiency to their organization. However, these costs are often justified compared to the alternative, which is using local Wi-Fi from airports, hotels, and coffee shops, where malicious entities can compromise enterprise data.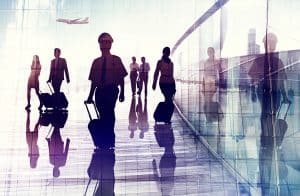 In 2020, SKYTRAC forged a partnership with GigSky, a high-speed cellular network provider offering global connectivity with no roaming fees, enabling SKYTRAC to offer 4G/LTE service aerospace industry in over 190 countries worldwide. With this partnership, international airlines and aerospace operators can now benefit from high-speed cellular connectivity anywhere that connectivity is available without the downsides of exorbitant roaming fees. SKYTRAC's solution automatically connects to the fastest available network from country to country, ensuring high-speed access on-demand.
SKYTRAC's GigSky solution offers a web-based portal that enables finance, operations, or other pertinent departments to manage all users from one account effectively. It eliminates the management bottleneck of dealing with multiple invoices and managing IP blacklists and data limits on a per-account basis for international travelers.
This revolutionary shift in international cellular management will allow pilots to connect pre-and post-flight seamlessly, access enterprise data securely, and visualize up-to-date weather data from virtually any airport in the world while utilizing the fastest regionally available networks.
With SKYTRAC's Dynamic Air Link 200 (DAL-200) wireless communication and data download solution, high-speed cellular connectivity can stream throughout the entire cockpit and cabin. The onboard crew can utilize this high-speed cellular connectivity to download passenger lists and flight manifests and process credit cards in low altitudes or on-the-ground. In addition, ground crew personnel can also access the Wi-Fi streamed by the DAL-200 to upload post-flight Flight Data Monitoring (FDM) data securely to their SkyWeb, WebSentinel, or third party FDM platform.
Reliable and automated international high-speed cellular coverage provide the aviation industry with the obvious efficiencies in today's aerospace, while other advanced sectors such as public safety services, aerial firefighting, and offshore oil and gas to leverage numerous aerospace technologies and capabilities that enable smarter, more intelligent organizations. For operators seeking to gain uninterrupted international 4G/LTE connectivity, GigSky provides a unique opportunity for organizations to enhance their operations without overcomplicated processes and procedures. Ask our experts about SKYTRAC GigSky cellular connectivity and the DAL-200 by connecting with a technical representative at sales@skytrac.ca
Speak with a connectivity expert today. We are eager to discuss your business needs.