[May 3, 2017 – SKYTRAC Systems, in partnership with Eastern European distributor Depicon, expands automated flight tracking services to UTair-Helicopter Services' fleet of 46 Mil-8 Helicopters. SKYTRAC supports the company's international peace-keeping missions with contractually-compliant high precision flight tracking, real-time automated event notifications, and air-to-ground voice and text messaging.
The UTair-Helicopter Services package includes SKYTRAC's ISAT-200A satellite air asset tracking unit, SKYTRAC CDP/DVI cockpit display panel and dispatch voice interface, and SkyWeb cloud-based data management services. The system provides GPS position, altitude, speed, heading and identifying aircraft data at configurable reporting intervals of 0.5 to 3 minutes. Automated status reports are sent to the operator with Avionics On, Block Start, Engine On, Take-off, Landing and more. Crew can easily forward manual status updates related to fuel, passengers, cargo weight and other mission parameters using built-in quick messaging features.
"SKYTRAC has helped us easily meet requirements for our peace-keeping missions while supporting and streamlining our day to day flight operations. The SkyWeb data management tool provides a clear and easy interface for tracking flights fleet-wide, and the SKYTRAC hardware provides reliable global real-time data coverage suitable for our remote operations," said Alexey Vinogradov, President of UTair-Helicopter Services.
"SKYTRAC is proud to work with UTair, the largest helicopter company in Russia and one of the world's leading helicopter operators. As an industry leader, UTairHelicopter Services looks to make systematic improvements to their Safety Management Systems. We've provided our best, high precision tracking technology to assist them in their mission," said SKYTRAC VP Sales Jan van der Heul.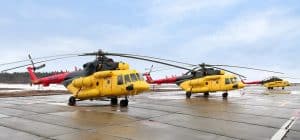 About UTair-Helicopter Services
UTair-Helicopter Services is the main helicopter operator of UTair Group. The Company's fleet is the largest in the world in terms of its combined weightlifing capacity and consists of over 320 helicopters of various types predominantly Mil and Airbus Helicopters. UTair-Helicopter Services aircraft operate on four continents around the world. The fleet's capabilities and staff professionalism allow the company to perform aviation works of any complexity and in any climatic conditions with a devotion to high quality and safety.
About Depicon
DEPICON (DEPrez International CONsultancy) was founded in 2012 by Hans Deprez,. With over a decade of experience, DEPICON provides its expertise in business development and represents world-leading Aerospace companies such as Esterline, EuroAvionics, Aerosonic, SKYTRAC and many others and hence supports Eastern European customers with integrated and stand-alone avionics and software products including simulators, fleet management tools, global positioning systems and flight data monitoring software.
About SKYTRAC
SKYTRAC is aviation's full-service, data-driven solutions provider. Since 1986, SKYTRAC has pioneered the development, evolution and commercialization of flight following, flight data and communications technology. Today, with systems certified on over 900 airframes and an online data management portal that is the go-to tool for over 6,500 global users, SKYTRAC is truly the partner of choice for data-guided business insights. From performance trending and operations reporting to real-time asset tracking and situational awareness – SKYTRAC offers a one-stop response to meeting more of your company's needs. For more information go to www.skytrac.ca.