SKYTRAC Systems Ltd. has received operational beta-units of the new state-of-the-art Iridium Certus™ 9770 transceiver. The new transceiver introduces a midband service class which will allow SKYTRAC's development team to implement products and solutions for the aviation industry at speeds 35 times faster than its predecessor. The L-band speeds, ranging from 22 Kbps to 88 Kbps, will enable SKYTRAC to expand the reach of its satellite services to new markets and offer enriched connectivity and functionality for the growing aviation segment.
SKYTRAC's current narrowband solutions and products can already produce highly effective and data-conscious connectivity. With a 35 times multiplier via the new midband service offerings, users will stand to benefit from richer data transfer speeds to align with increased demand due to advanced streaming and telemetry services. SKYTRAC has initiated development of a more robust suite of applications designed to leverage the increased speeds brought forward by the new Iridium Certus™ 9770 transceiver.
As the IoT market expands, new entrants and existing operators requiring satellite connectivity will demand more from their existing service providers. The Iridium Certus® technology platform, launched in January 2019, offers the flexibility to scale device speeds, sizes, and power requirements bidirectionally based on the needs of the end-user.
IoT and small-form-factor transceiver data transfer rates were limited to 2.4 Kbps before the launch of the new transceiver. The launch of the Iridium Certus platform and new transceivers allows providers to leverage both narrowband, midband, and broadband speeds to align with operator and end-user requirements, an exciting shift for SKYTRAC's full-service data-driven solutions to the aviation industry.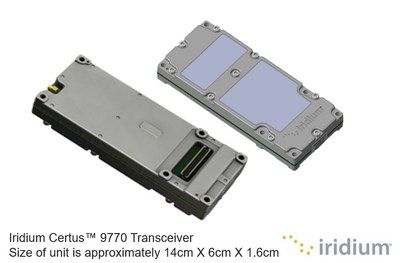 Image courtesy Iridium
###
About SKYTRAC Systems Ltd.
SKYTRAC is aviation's full-service, data-driven solutions provider. Since 1986, SKYTRAC has pioneered the development, evolution and commercialization of flight following, flight data and communications technology. Today, with systems certified on over 900 airframes and an online data management portal that is the go-to tool for over 7,000 global users, SKYTRAC is truly the partner of choice for data-guided business insights. From performance trending and operations reporting to real-time asset tracking and situational awareness – SKYTRAC offers a one-stop response to meeting more of your company's needs. For more information, visit www.skytrac.ca.
About Iridium Communications Inc.
Iridium® is the only mobile voice and data satellite communications network that spans the entire globe. Iridium enables connections between people, organizations and assets to and from anywhere, in real time. Together with its ecosystem of partner companies, Iridium delivers an innovative and rich portfolio of reliable solutions for markets that require truly global communications. The company has recently completed its next-generation satellite network and launched its new specialty broadband service, Iridium Certus®. Iridium Communications Inc. is headquartered in McLean, Va., U.S.A., and its common stock trades on the Nasdaq Global Select Market under the ticker symbol IRDM. For more information about Iridium products, services and partner solutions, visit www.iridium.com.