Italian operator and Leonardo Excellent Service Center Alidaunia Srl is pioneering Real-Time HUMS for Helicopter Emergency Medical Services (HEMS) and civil protection missions with the selection of SKYTRAC and Leonardo aircraft connectivity for their AW139 and AW169 fleet.
The Alidaunia Real-Time HUMS solution supports a safe and proactive approach to maintenance by streamlining previously manual processes, simplifying troubleshooting and speeding the detection of emerging issues. Through the same compact hardware kit, Alidaunia also gains access to real-time tracking, Iridium PTT group-talk, automated EFB forms and real-time FDM services.
With this latest implementation project, SKYTRAC and Leonardo are now set to provide real-time connected services on AW139, AW169 and AW189 aircraft.
"HUMS is a vital tool that helps detect potentially critical issues early. However, in complex and remote missions, HUMS data may not be available until many hours of flight have passed. This system, championed by SKYTRAC and Leonardo, allows operators like Alidaunia to receive critical HUMS information faster and with less effort. By combining this solution with other essential tools such as group talk and tracking, the operator receives exceptional value from a single, lightweight solution," said SKYTRAC VP Sales Jan van der Heul.
"In HEMS missions, lives hinge on our ability to deliver services to our clients safely and efficiently. The SKYTRAC and Leonardo solution enables fast and accurate data delivery and allows us to communicate better between our team members. This in turn allows us to stay abreast of changing conditions and to respond faster. We see this project as a major step forward for ourselves and for the HEMS industry," said Alidaunia CEO Roberto Pucillo.
Leonardo has been a long-time player in HUMS and predictive maintenance and has introduced advanced solutions into its newest generation of popular AW helicopters including the AW169. According to Leonardo, by partnering with customers and SKYTRAC on Real-Time HUMS, the company pushes the concept of prediction even further. Through Real-Time HUMS, customers can identify in advance if a helicopter is available for the next flight or if a maintenance action is required.
Leonardo continues to work towards new RT HUMS capabilities that will allow their customers to pass on even greater levels of service to their clients. Thanks to Real-Time HUMS, the AW helicopter maintains a secure connection to the Internet and allows algorithms to be updated based on intelligence gathered by the rest of the fleet. In practice, the connected helicopter becomes an IOT device that uses machine learning to produce innovative new services.
With this project, Alidaunia also becomes an authorized SKYTRAC connectivity partner in Italy.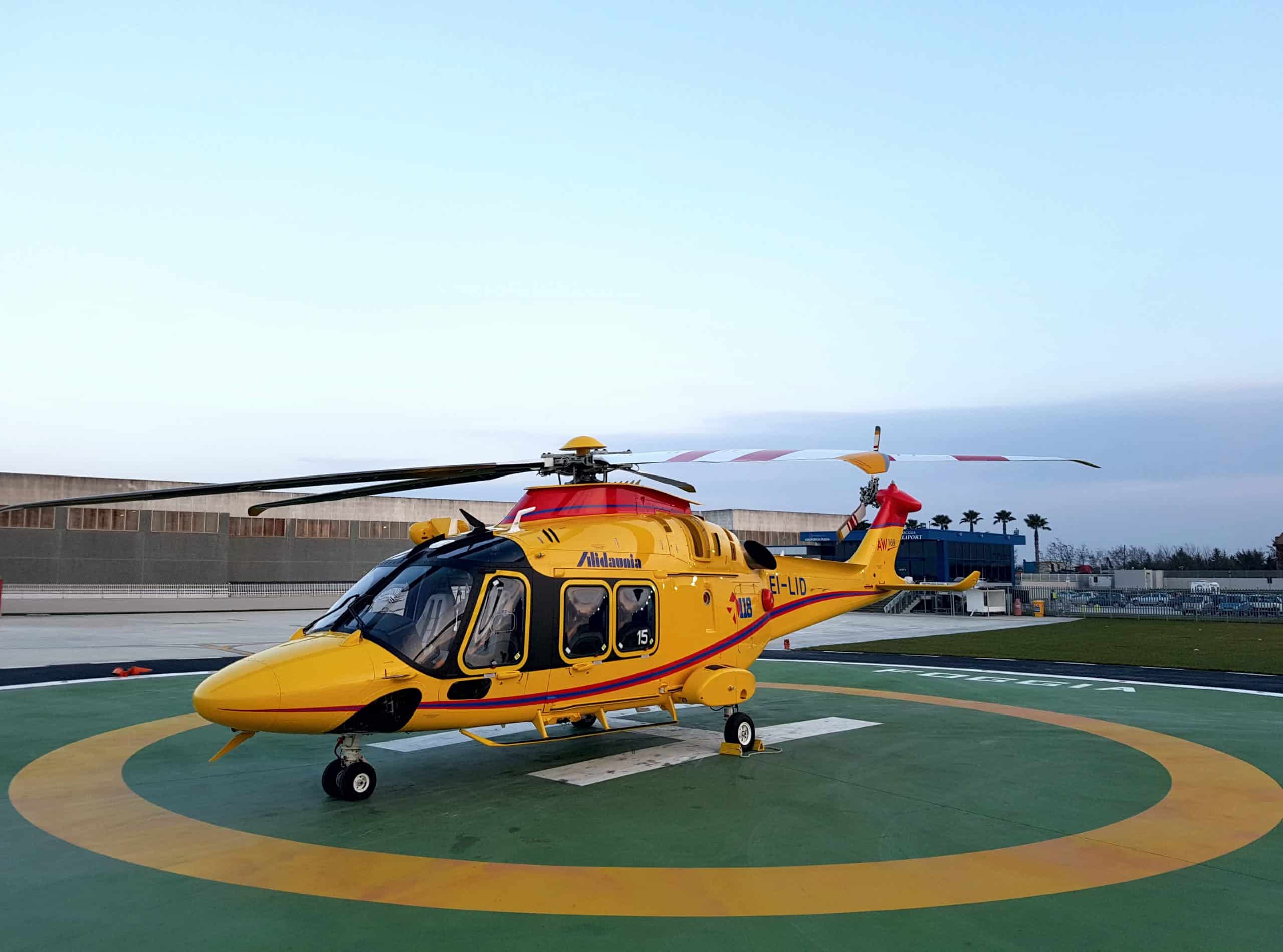 Image courtesy Alidaunia Srl
#
About SKYTRAC
SKYTRAC is aviation's full-service, data-driven solutions provider. Since 1986, SKYTRAC has pioneered the development, evolution and commercialization of flight following, flight data and communications technology. Today, with systems certified on over 900 airframes and an online data management portal that is the go-to tool for over 7,000 global users, SKYTRAC is truly the partner of choice for data-guided business insights. From performance trending and operations reporting to real-time asset tracking and situational awareness – SKYTRAC offers a one-stop response to meeting more of your company's needs. For more information go to www.skytrac.ca.
About Alidaunia
Alidaunia was founded in Foggia on March 1, 1976 and started its activity as a fixed wing operator of aerial work. In 1984 the Company obtained a License for Passengers Public Transportation (TPP) from the Italian Ministry of Transportation and began operating executive flights. Since 1985, with Ministry of Transportation approval and with the sponsorship of Puglia regional government, Alidaunia has guaranteed the daily connection between Foggia and the Tremiti Islands. Since 1986, Alidaunia is the only Italian company operating line scheduled flights with helicopters. Moreover, such line service to the Tremiti Islands is integrated by Helicopter Emergency Medical Service (HEMS), available 24/7. Today, Alidaunia operates in many areas within aviation including Commercial Air Transport (EASA IT.AOC.063), aerial work (SPO), Continuing Airworthiness Management Organization (EASA IT.MG.0063), Maintenance Organization (EASA IT.145.0101), Design Organization Approval DOA (EASA AP.018), airport and heliport management, handling, fire-fighting, fuel bunkering, security. Alidaunia operates helicopters for civil protection services and HEMS (Helicopter Emergency Medical Services) contracted by several Public Administrations in different regions of Italy. From 1992 to 1995 Alidaunia operated also the Mitsubishi MU 300 "Jet Diamond" for line service on the routes Foggia – Milan Malpensa and Foggia – Parma. Alidaunia's fixed wings operations recently resumed with the acquisition of a Cessna Citation M2 with dual configuration options, executive and MEDEVAC.