FORT WORTH, TX, October 29, 2021 – SKYTRAC Systems Ltd. (SKYTRAC), a global leader of intelligent connectivity solutions for aviation, today announced they will be co-sponsoring the NASCAR Fleur-De-Lis exhibit at SHIFT Air Medical Transport Conference (AMTC) 2021 taking place in Fort Worth, Texas, from October 31st to November 2nd, alongside partner Mercy Flight Central, an independent and not for-profit provider of emergency air medical transport services.
In June of 2020, Mercy Flight Central was called to rescue a patient from an accident at a construction site. The patient, Craig Partee, happened to be an owner of the NASCAR team Fleur-De-Lis Motorsports. In support of Mercy Flight Central, Craig Partee and his team dedicated his number 66 Chevrolet Camaro with Mercy Flight Central livery for the NASCAR Xfinity Series race. The 66 Camaro was named "2nd Chances", symbolic of Mr. Partee's second chance at life, and carried the Mercy Flight Central tail number of the helicopter that transported Mr. Partee from the accident to the trauma center.
In the wake of Mr. Partee being nominated for the 2020 MedEvac Foundation Patient of the Year award, Mr. Partee's NASCAR team will be exhibiting at SHIFT AMTC this year. The Fleur-De-Lis race car painted with Mercy Flight Central's colors will be exhibited to reflect Mr. Partee's continued support and appreciation of the emergency medical services that saved his life.
"I am honored to have been nominated and selected for the MedEvac Foundation Patient of the Year award," mentions Craig Partee. "It is important to me to bring awareness to Mercy Flight Central and their essential work. Featuring them on the Xfinity car at Watkins Glen International was part of that. I am pleased to have SKYTRAC as a co-sponsor to help transport the number 66 Chevy Camaro to the SHIFT AMTC 2021 to be displayed in the exhibit hall and continue to raise awareness."
"Working with partners like Mercy Flight Central epitomizes our vision here at SKYTRAC of creating customer value through intelligent connectivity solutions, and clearly beyond," says Luke Billington, Regional Business Manager at SKYTRAC. "Co- sponsoring Mr. Partee's NASCAR team exhibit is our way of recognizing the tangible and lifesaving impact that our solutions play a part in creating."
SKYTRAC supports Mercy Flight Central's mission to ensure the rapid, safe, and cost-effective delivery of expert response teams by enabling mission-critical capabilities including Automated Flight Following, Flight Data Monitoring, and Satellite Voice, Text, and Push-to-Talk communications.
"We pride ourselves in utilizing the latest lifesaving technology to make us unparalleled in our service standards," says Erin Reese, Program Director, Mercy Flight Central. "Partners like SKYTRAC support us to safely and rapidly serve patients in need, like Mr. Partee, to potentially give them a second chance at life."
For more information on SKYTRAC's products and services, please visit Booth 831 at SHIFT AMTC 2021 from October 31 to November 2 or please contact sales@skytrac.ca to speak with a technical expert.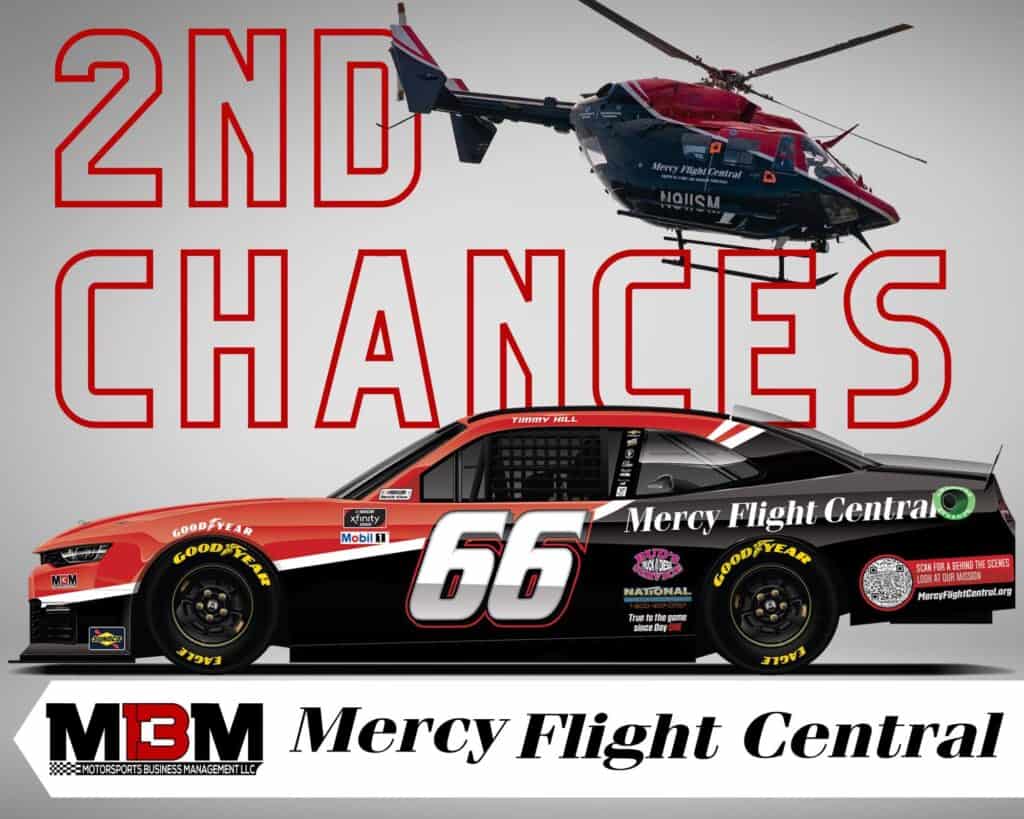 About SKYTRAC Systems Ltd.
SKYTRAC is aviation's full-service, data-driven solutions provider serving the fixed-wing, rotorcraft, and unmanned aviation markets. Since 1986, SKYTRAC has pioneered the development, evolution and commercialization of flight following, flight data and communications technology. Today, with systems certified on over 900 airframes and an online data management portal that is the go-to tool for over 7,500 global users, SKYTRAC is truly the partner of choice for data-guided business insights. From performance trending and operations reporting to real-time asset tracking and situational awareness – SKYTRAC offers a one- stop response to meeting more of your company's needs. For more information, visit www.SKYTRAC.ca.
About Mercy Flight Central
Mercy Flight Central was founded as a non-profit in 1992 to provide air medical services to New York State residents and beyond. Since its inception, the organization has served more than 16,000 patients and grown to approximately 70 employees. MFC's three base locations serve the regions of the Finger Lakes, Central New York, and Mohawk Valley, including service to the Southern Adirondack Region. The organization began operations as an advanced life support air ambulance service and has since expanded to become New York's premier critical care air medical service with three helicopters staffed 24/7/365. The aircraft utilized in transports includes helicopters that can travel within a 150-mile radius of Mercy Flight Central's base locations.
Mercy Flight Central provides the highest level of pre-hospital critical care to patients. Each helicopter is equipped with state- of-the-art medical equipment that includes advanced airway management, cardiac monitoring, and ultrasonography devices. Our Flight Nurse and Flight Paramedic teams are highly trained and experienced in critical care. Air medical teams care for critically ill and injured patients requiring advanced treatment and rapid air medical transport to specialized medical centers across the northeast. Together these elements allow Mercy Flight Central to deliver a high level of critical care to the scene of an accident or a patient's bedside. For more information, visit https://mercyflightcentral.org/.