It's not often someone can claim they have a degree in Space Engineering, yet SKYTRAC's Julia Bicknell can. In the spring of 2021, Bicknell graduated with a Bachelor of Engineering in Space Engineering from Toronto's York University. During her undergraduate capstone project, Bicknell focused on thermal analysis and orbital debris elimination to manage the issue of space junk. Following her passion for design, she participated in the Canadian Satellite Design Challenge, where she designed and developed 3D models of a CubeSat.
"Through the projects I worked on in my undergraduate and with York University's Satellite Club, I noticed myself spontaneously coordinating between teams and leading the project," says Bicknell. "So, when my friend, Luka Djurasovic, recommended I look into SKYTRAC, the co-op opportunity in Program Management naturally piqued my interest."
Launching a Career with SKYTRAC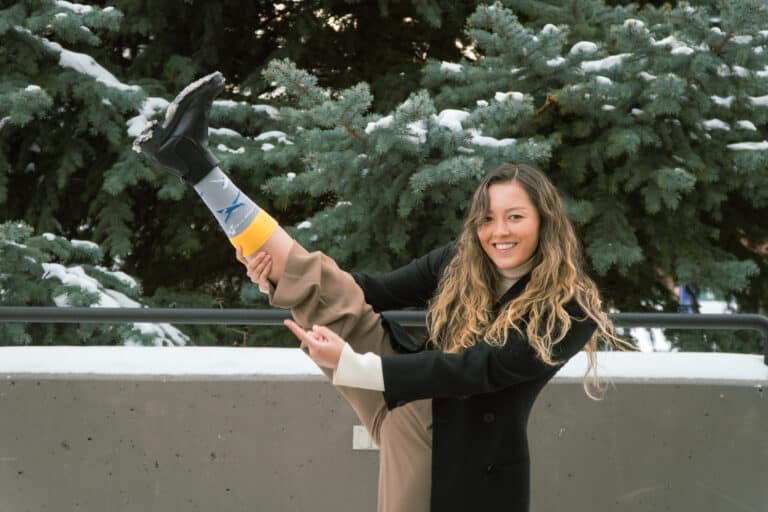 SKYTRAC's Julia Bicknell enthusiastically shows off her SKYTRAC  socks. 
With a robust set of technical skills and aerospace projects under her belt, Bicknell successfully launched her career with SKYTRAC as a Project Coordinator co-op in May 2021. In this role, Bicknell explored her interest in Project Management while contributing to one of SKYTRAC's most significant and high-profile projects – providing Embraer with a Global Aeronautical Distress and Safety System (GADSS). This project enables Embraer to meet the upcoming January 1, 2023, requirements as per ICAO recommendations and, more broadly, permanently solve the issue of missing aircraft.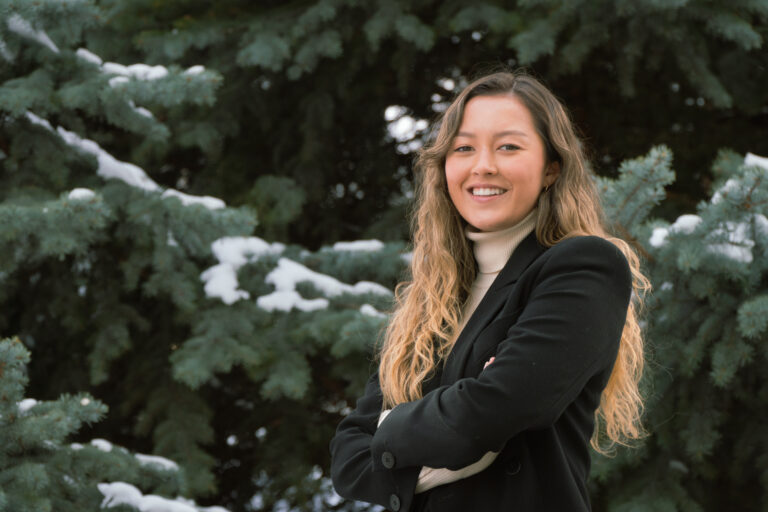 Since being selected by the ESA Academy for the Space Systems Engineering training course, this interdisciplinary field has intrigued Bicknell. Starting February 1st, less than a year since first joining SKYTRAC as a co-op, Bicknell will begin a Systems Engineer role where she will have the opportunity to further nurture her technical acumen.  She aspires to grow with SKYTRAC and become a Project Engineer while simultaneously working toward a PMP certification. 
While Bicknell is based in SKYTRAC's Kelowna office, she regularly touches base with the team of engineers in the Ottawa office. Bicknell relocated to Kelowna from Toronto, where she was completing her undergraduate. Her time in the cosmopolitan city fueled her interest in art, culture, and sustainable fashion. With an entrepreneurial mindset, Bicknell combats the fast fashion industry by reselling vintage clothing through her online store. She mentions that she is a certified makeup artist. Most of the team would remember her eerily true to form Halloween costume as the Mask. She notes that whether its makeup, fashion, or engineering, her passion for design weaves these seemingly disparate things together.
SKYTRAC's #YoungTalent Series focuses on bright young minds who are just starting their aerospace careers. For career opportunities, please visit skytrac.ca/careers.