In our second article in SKYTRAC's Subject Matter Expert series, we sat down with Luke Billington, the Regional Business Manager on the SKYTRAC team. With over a decade of experience in aviation, Luke shares his insight on how intelligent connectivity solutions benefit emergency medical operators, the natural convergence between aviation and the medical industry, and more. 
What is your educational background?
I attended Canadore College from 2009 to 2011, studying Airframe Mechanics and Aircraft Maintenance Technology. Soon after, I obtained my Aircraft Maintenance Engineer (AME) certification from Transport Canada. In 2018, I followed this up with the AME M2 Transport Canada certification. This education helped me transition from the automotive industry to aviation.
While I pursued my education and certification in aircraft mechanics and maintenance technology, I was concurrently working as an AME in First Air from 2011 to 2015. I later joined Summit Air, where I continued to hone my skills and gain industry experience. After gaining hands-on experience, I sought an opportunity that would allow me to scale my ability to impact the aviation industry.  In 2019, I joined SKYTRAC to do just that.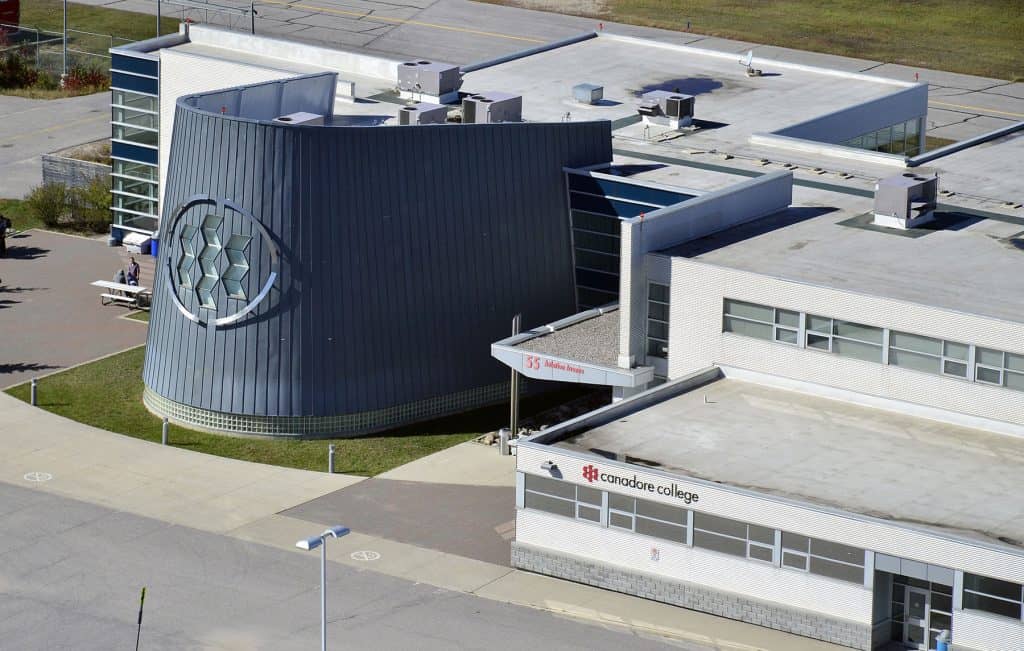 A view of Canadore College's Aviation Campus in North Bay, Ontario, Canada. 
What is your subject matter expertise and how did you get involved?
Since joining SKYTRAC, I've gained experience in most aviation verticals. Of those, one of my focuses is leveraging satellite connectivity for the emergency medical services segment of aviation. I found this to be a unique segment with its own needs, which I quickly gravitated towards.
Since first attending AMTC, a leading air medical conference, it was apparent there was a clear need for connectivity and the capability to offload medical data while in flight. Working closely with UPMC and STAT MedEvac gave me insight into their pain points shared by the industry at large. Without satellite connectivity, air medical operators rely on sparse cellular coverage or line of sight communication, neither of which are reliable enough for these mission-critical operations.
I've been involved in this market for three years, and I still see the growing need for medical data transfer and telemedicine. Working with major air medical equipment manufacturers has enabled SKYTRAC to leverage its technology to offer a leading solution to address the industry's needs.
What excites you about this sphere of aviation? What are aspects of your job you enjoy?
Living in Canada and having worked in areas north of latitude 60, where there is limited infrastructure and sparse cellular connectivity, gave me firsthand insight into the necessity for satellite communication technology in these regions. In the metropolis, we can drive or call an ambulance and quickly receive the medical attention we need, and it's almost taken for granted. In the Northern regions of Canada and many other remote regions across the world, this is not the case. When hospitals are not accessible, and ground ambulances would take too long, the fatality of injuries can drastically increase. For those communities and people who live and work in those remote regions, air ambulances are the most effective means to receive the medical care they need. The immediate impact this aviation segment has on the health of individuals, communities, and society at large is what drew me in.
I have enjoyed working with the medical community and, in the process, have noticed the similarities between the aviation and medical industries. The operations of both these industries have people's lives at stake, so safety is a core tenet both industries share. Besides the rigorous safety protocols, you also have people who work long and often unsociable hours. This means there's room for human error. Connectivity and the capabilities it affords, such as offloading data or automatizing and digitizing paper-based processes, benefit both industries by reducing human error.
Beyond this, I enjoy engaging with the exciting projects and interesting people that aviation is rife with. Aviation connects the whole globe and is a truly global industry where you meet people from different countries, cultures, and backgrounds.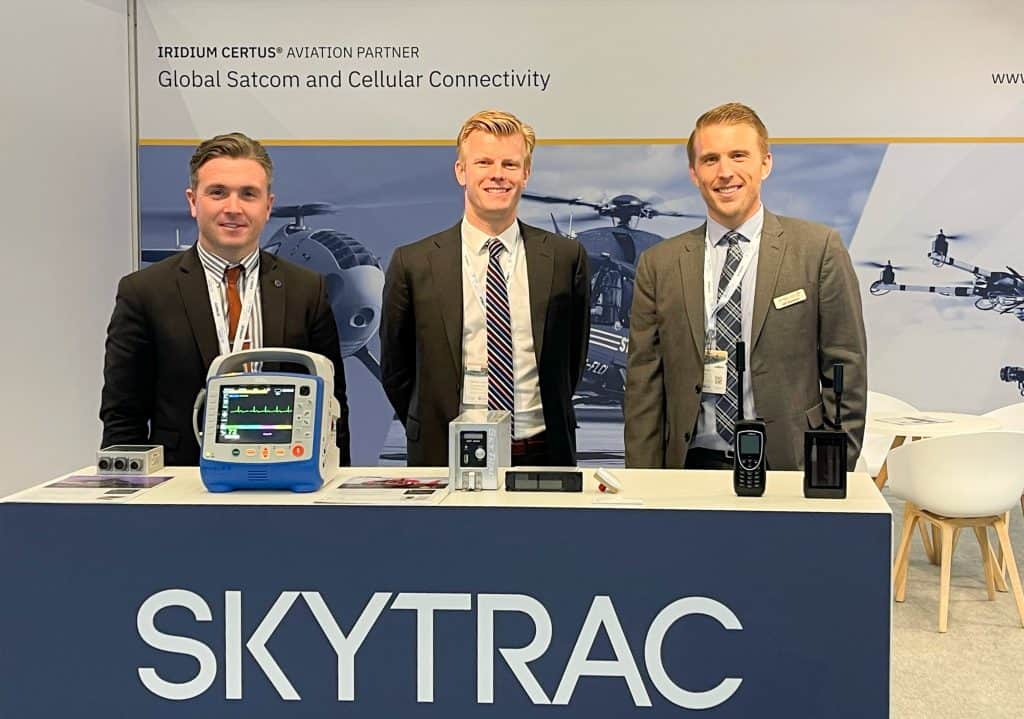 Luke Billington with SKYTRAC's VP of Sales, Jan van der Heul, and Director of Business Development, Jeff Sherwood, at European Rotors 2021.
What is the value this segment brings to other industries, people, and society at large?
The goal for air medical operators is to transport critically ill and injured patients who may be compromised by a delay in transport to appropriate medical care, either because of access issues or availability of resources. The proven value of helicopter emergency medical services (HEMS) to health systems is that it improves ground ambulance availability, enables access to patients in rural, remote, and urban areas, and provides fast critical care transport to a higher level of care.
The value of emergency medical services is quite straightforward – it democratizes medical care, and ultimately, it saves lives.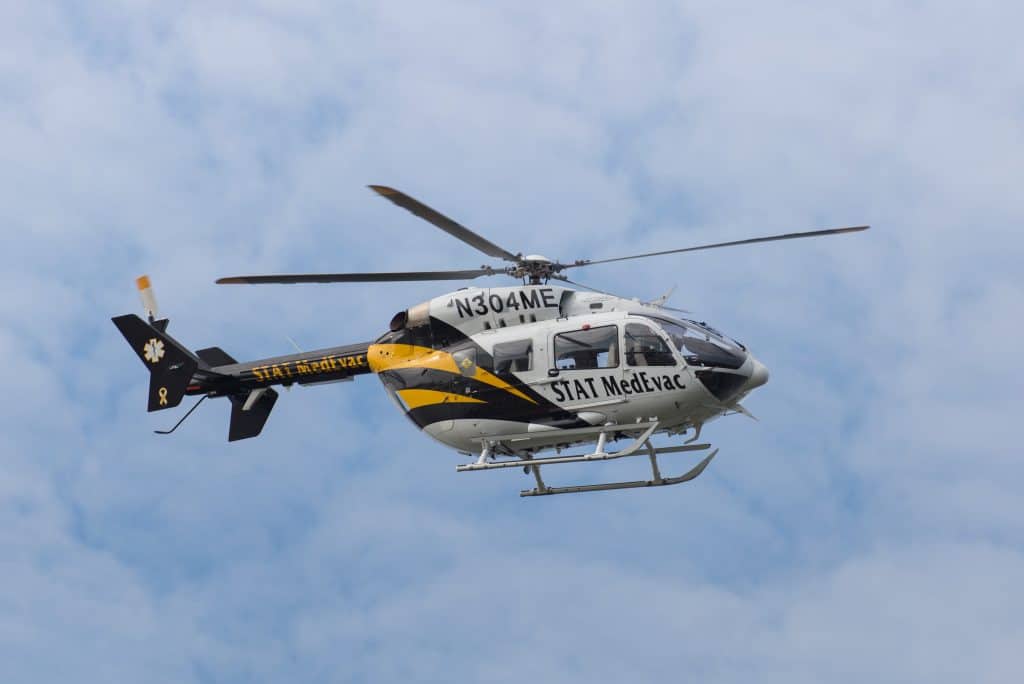 STAT MedEvac's helicopter. STAT MedEvac is one of the largest single operated and dispatched air-medical transport systems in the United States. 
What are some of the challenges this segment is confronted with today or has been in the past?
First, to successfully operate in rural and remote environments, operators require connectivity to consistently track and communicate with their fleet, remain virtually connected to physicians, and communicate with receiving hospitals so they may prepare as per the patient's needs. In discussions with various physicians, they expressed the value of being able to analyze data before an inbound patient reaches the hospital as crucial to the well-being of that patient. Air Medical is not immune to the standard operational challenges that other aviation verticals encounter, including weather, maintenance, and operational events, which are all easier to manage with a reliable connectivity solution.
How does SKYTRAC's technology help tackle those challenges?
With SKYTRAC's medical data transfer through satellite, cellular, or Wi-Fi connectivity, air medical first responders can transmit live patient vitals such as oxygen and carbon dioxide saturation, pulse rate, and blood pressure data from popular monitor and defibrillator devices directly to remote physicians and receiving hospitals from any point on the globe.
This unique mix of satellite, cellular, and Wi-Fi connectivity is made possible with our ISAT-200A and DAL-200 avionics, which offer operators dynamic data routing through various channels for real-time medical data acquired from onboard medical devices.
This expandable capability enables healthcare practitioners to access dynamic and static medical data such as Remote view and 12-lead reports before patients arrive at the receiving hospital, saving valuable seconds during one of the riskiest phases of care.
The Iridium-based ISAT-200A satellite communications terminal features powerful data acquisition capabilities and services such as voice and text communications, aircraft tracking, and satellite Push-to-Talk (PTT) through a Low Earth Orbit (LEO) satellite network for resilient low-latency narrowband bandwidth immune to natural disasters and catastrophic events. In regions where cellular connectivity is available, SKYTRAC's DAL-200 can utilize cellular data. 
Are there innovations or developments on the horizon to keep up with in this segment?
What I see on the horizon is the increasing importance of video data. Using an onboard camera and streaming this live video data to a remote specialized physician can improve in-flight patient care. In high-pressure situations, things can be missed, so this extra layer of expertise to support the onboard crew is valuable. This video data can be later repurposed to train new personnel on real-life scenarios and develop better processes.
Our SDL-350 broadband satellite communication and onboard server with up to 704 Kbps of globally available Satcom connectivity will be able to meet this growing demand to stream video data.
How do you stay up to date on the latest trends in this segment? What resources do you recommend?
I remain engaged with aviation associations through online industry publications and trade shows such as AMTC, HAI, and AirMed. I will be attending AirMed 2022 in Salzburg, Austria, from June 28th to the 30th and look forward to engaging with industry professionals. These are great opportunities to get the pulse of the industry straight from the people in the field itself.
Speak with a connectivity expert today. We are eager to discuss your business needs.