Onboard state-of-the-art data-driven technologies can enable comprehensive and specialized patient care abilities for air ambulance operations. However, these services often require rich data streaming capabilities from remote locations, and for an industry where timing is everything, robust connective technologies are vital.
Following decades of increasing in the field demands for patient monitoring technologies, a new era of Iridium Certus Satcom connectivity is now accessible to modernize and improve the responsiveness of global aerial emergency medical services. For operators focusing on gaining the powerful connective speed of Iridium Certus, SKYTRAC's ISAT-200A-08 (midband) and SDL-350 (broadband) HL7 compliant systems provide the gateway to harness and empower advanced lifesaving telemedical technologies.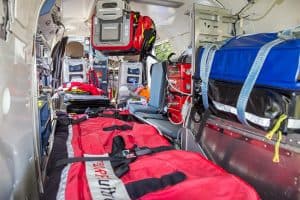 The SDL-350 terminal is the ideal solution for operators looking to access robust flight data monitoring applications, onboard electronic flight bag (EFB) platforms, real-time health and usage monitoring (HUMS) for fleet following applications, and critical medical data transfer streaming abilities for their mission-critical operations. The system's broadband services can service speeds of up to 704 Kbps, enabling live real-time high definition video, Electro-Optical and Infrared (EO/IR) imaging, and more, even on remote and delicate rescue missions.
With the midband Iridium Certus bandwidth class, EMS services can take advantage of 22 Kbps from the aircraft and 88 Kbps to the aircraft, globally, for in-flight data streaming functions. The midband option services efficient and reliable Voice over Internet Protocol (VoIP) communication for patient transfers to health care facilities and ground crew communication with 99.9% reliability. The ISAT-200A-08 allows operators to send airworthy monitor/defibrillator data, patient trend reports analysis and provides 4G remote viewing capabilities for real-time critical in-flight support. The option to send real-time location and flight path following data through advanced flight following platforms also provides the ability for operators to determine highly accurate ETA of air transfer arrivals.
Today's Iridium Certus technologies are a precious tool to enable services such as remote medical advice and assistance with rich data streaming capabilities in regions without cellular connectivity. Its stable services are channeled through a dedicated and controlled infrastructure of 66 cross-linked Low Earth Orbit Iridium Certus satellites. Fixed-wing and rotorcraft operators can benefit from Iridium's low-weight, low-drag antennas that enable less drag and provide reliable, on the move, beyond the line of sight, coverage for connecting all in-field assets and personnel. Furthermore, Iridium Certus Satcom systems can provide stable communication in extreme weather conditions and at any altitude, ensuring connectivity in the most critical of times.
In addition to the unique capabilities that are available with these systems today, the ISAT-200A-08 and the SDL-350 terminals are future-proofed to include the roadmap capabilities of in-flight disclosure logs, patient dynamic trend reporting, live video streaming and DICOM compliance.
EMS services rely on various technologies to enhance its ability to deliver fast and responsive patient transport. SKYTRAC's Iridium Certus systems can enable timely and efficient, rich data transfer capabilities for today's air medical technologies from even the world's most remote locations. Ultimately, providing enhanced emergency patient care and crew support for operators.

Speak with a connectivity expert today. We are eager to discuss your business needs.