5 in the Sky is a campaign planned by a Vancouver-based family who will fly around the globe, visiting 50 countries and covering 45,000 nautical miles over 14 months. The crew plans to circle the world in a fully outfitted 2013 GippsAero GA8 Airvan airplane (C-GIPU). The single-engine GA8 Airvan was designed for use in remote, austere airstrips and was selected due to its proven ruggedness.
Departing in the summer of 2022, Chief Pilot Ian Porter will fly visual flight rules (VFR) and adjust routes as required for weather, fuel availability, and distance between airports. Although quite an endeavor with the logistics of a moving family of five with no set place to stay each night, Porter has 700 flight hours under his belt. This will not be his first time doing a long and adventurous flight.
Despite the ambitious undertaking, they aim to keep the journey low and slow by only flying two and a half hours at a time, taking them to smaller, more remote, and less-visited areas. They began their journey in late June when they flew from British Columbia to Newfoundland to pick up their younger daughter, who was competing in a karate tournament. This July, they are at the world-famous aviation exposition EAA AirVenture in Oshkosh, Wisconsin, from where they will officially launch their campaign.
Representing Women in Aviation
Alongside Ian Porter, the 5 in the Sky crew consists of his wife, Michelle Porter, and their three children, Samantha, Sydney, and Christopher, each having their responsibilities in this mission.
Last year, Porter's two daughters, Samantha and Sydney, got their private pilot's licenses and will assist their father in flying. Samantha, 21, will often sit "right seat" as co-pilot or fly pilot-in-command during the expedition. Sydney, 18, will also share these responsibilities. In addition to pilot duties, Samantha will be responsible for their social media, while Sydney will maintain their website and post updates on their blog. Recognizing the stark lack of women in aviation, Samantha and Sydney hope to inspire other young women to become pilots. They hope to represent that being a pilot is possible for young women by sharing behind-the-scenes stories of their journey. SKYTRAC resonates with this mission and stands by the importance of representing women in aviation. 
Their younger brother Christopher will support drone operations, radio and air communications, satellite tracking, and more. While Samantha and Sydney are taking a year off school for this once-in-a-lifetime journey, Christopher will continue his Grade 10 education online.
Michelle will head all logistics, including the travel documentation, community outreach, flight planning, and more. Besides being Chief Pilot, Ian will spearhead their fundraising efforts – the primary goal of their campaign.
Flying for a Cause – SOS Children's Villages
The Porters are hoping to raise $ 1 million to raise awareness and funds for SOS Children's Villages, which provides safe and nurturing family homes to 80,000+ orphaned and abandoned children in over 130 countries.
SOS Children's Villages is the world's largest organization focused on ensuring that children and young people without parental care or at risk of losing it grow up with the care, relationships, and support they need. The charity addresses today's unfortunate circumstances where 1 in 10 children and young people are separated from their families, abandoned, neglected, or subject to abusive environments. With work in 136 countries and territories, SOS Children's Villages services for the full realization of the UN Convention on the Rights of the Child (UNCRC), the UN Sustainable Development Goals, and the UN Alternative Care Guidelines.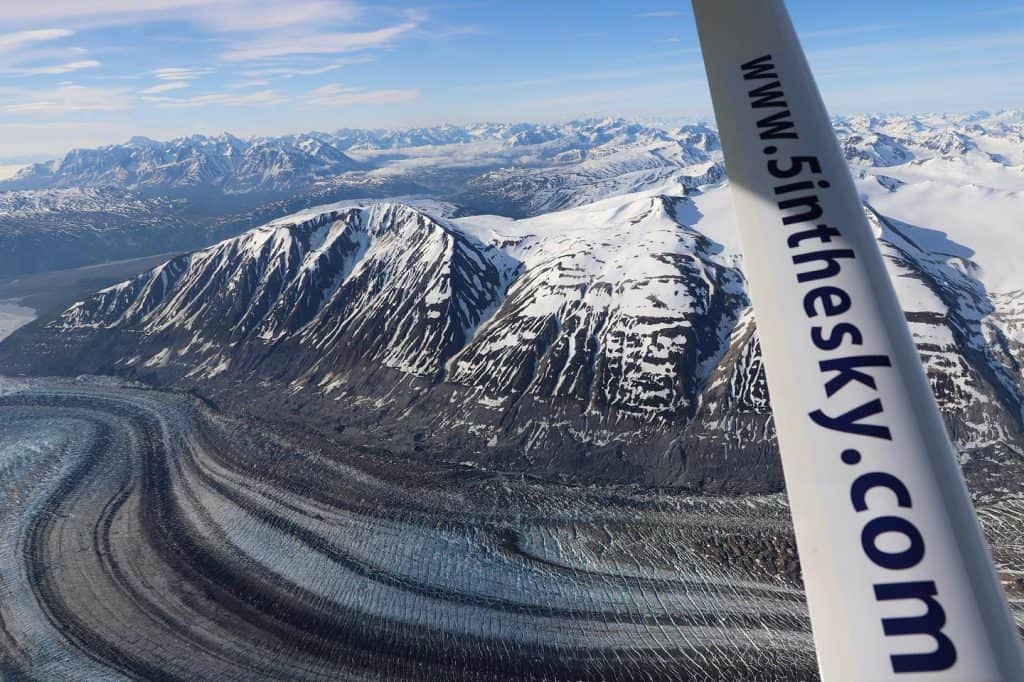 5 in the Sky flying around Kluane National Park and Reserve in southwestern Yukon Territory, Canada – a limited cell coverage region.
SKYTRAC Sponsors 5 in the Sky
With their fundraising mission to support children in need and encouragement of women in aviation, SKYTRAC is proud to sponsor the 5 in the Sky crew. As a sponsor, SKYTRAC is providing the 5 in the Sky crew with several technologies from their partners and sister companies to ensure their safe journey. SKYTRAC has curated a complete connectivity solution for flight safety and situational awareness as they traverse the globe for their charitable mission.
SKYTRAC has arranged for partners Iridium and GigSky to support the Porters by providing their technology. GigSky will provide their global, roaming-free 4G/LTE cellular coverage in over 190 countries. With this, the family will have access to up to 50 Mbps download and 10 Mbps upload speeds ensuring they have connectivity in regions with cell coverage.
As much of their flight paths could be outside of cellular coverage, SKYTRAC has also organized for Iridium to provide a narrowband satellite communication device – the Iridium GO! This compact and easily portable device will enable global voice calling and text messaging solutions for up to five of the family's mobile devices. The Iridium GO! can be programmable to have one-touch SOS with access to 24/7 assistance in the case of emergencies.
With the GigSky and Iridium solutions, the 5 in the Sky team will be equipped with the connectivity they need to receive real-time weather information, including SIGMETs, AIRMETs, PIREPs, and NOTAMs. This will help improve their flight safety and situational awareness on their global expedition. The connectivity will also help them share behind-the-scenes footage via Instagram, TikTok, and their blog.
As an extra precaution, SKYTRAC is also providing their sister company's ARTEX Personal Locator Beacon (PLB), which provides the reassurance that emergency services can be alerted and rescue services can be facilitated at a press of a button.
SKYTRAC wishes the 5 in the Sky team the best of luck on their mission and will follow along to see how the family's 14-month-long journey will unfold.
For media and sponsorship inquiries, please visit their website or contact 5inthesky@gmail.com.