Dare MedFlight, an air medical transport operator serving Dare County North Carolina, has completed installation of SKYTRAC's high resolution aviation camera on their H145.
"As an air ambulance operator, we have a mission to deliver safe, efficient and reliable service. We look to the latest technologies to support us in this mission. Adding a high-resolution camera to the flight deck provides a new, objective input for our safety management programs and allows us to enhance training for our pilots. SKYTRAC offered a lightweight and cost-effective option that could be easily retrofitted on our HEMS-equipped H145T2," said Dare MedFlight Director of Operations, Chad Jones.
The SKYTRAC aviation camera is designed to provide operators with highest fidelity audio visual recording during flight while also minimizing the need to change data cards or over-write stored data. It is capable of recording up to eight hours of video at 1080p and 15 fps. The camera comes in a unique kit format that allows up to two flush-mounted lenses to be installed internally or externally. Wide lens and fine detail image sensor kits are available to accurately record flight controls and capture maximum field of view.
The camera kit can be used with SKYTRAC's ISAT-200A transceiver and data acquisition unit or as standalone hardware to supplement existing flight data monitoring and tracking solutions.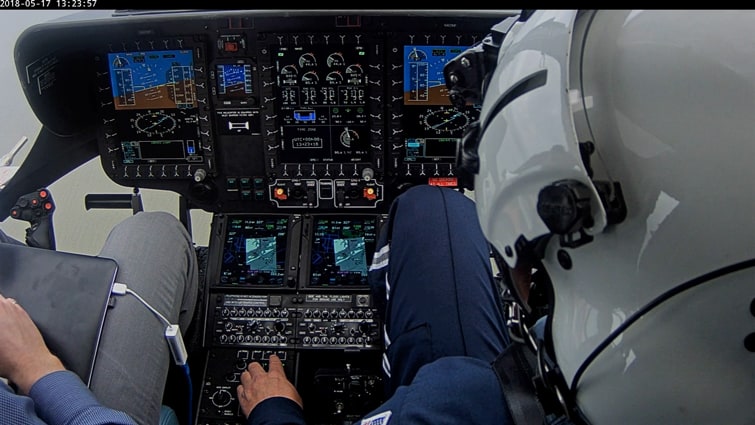 H145 Flight Deck visuals captured during demo flight out of Dare County Regional Airport in Manteo, North Carolina, May 2018.
#
ABOUT SKYTRAC
SKYTRAC is aviation's full-service, data-driven solutions provider. Since 1986, SKYTRAC has pioneered the development, evolution and commercialization of flight following, flight data and communications technology. Today, with systems certified on over 900 airframes and an online data management portal that is the go-to tool for over 7,000 global users, SKYTRAC is truly the partner of choice for data-guided business insights. From performance trending and operations reporting to real-time asset tracking and situational awareness – SKYTRAC offers a one-stop response to meeting more of your company's needs. For more information go to www.skytrac.ca.