DALLAS, TX – September 27, 2018 – CHC Helicopter, in collaboration with Leonardo and SKYTRAC, has completed testing and is introducing a real-time aircraft data solution on the AW139. The ground-breaking technology monitors over 500 Heliwise Health and Usage Monitoring System (HUMS) indicators in real-time, alerts ground crew as soon as an in-flight exceedance is detected, and streamlines the HUMS and Flight Data Monitoring (FDM) file download process post flight. An additional Electronic Flight Bag (EFB) solution provides live weather and marine AIS data to the flight deck.
DRIVING MAINTENANCE EFFICIENCY
The advanced solution installs Leonardo's Heliwise HUMS analysis libraries onboard the aircraft. SKYTRAC's ISAT-200A data acquisition unit then monitors for Heliwise exceedances during flight and communicates HUMS alerts in real-time. With a fully deployed solution, the CHC maintenance team can gain immediate insight into emerging technical issues and begin investigation and preparation before the aircraft is back on the ground. By streamlining the HUMS and FDM file download process, CHC can also avoid laborious post-flight data processing and save valuable aircraft turnaround time.
ENHANCING PILOT SITUATIONAL AWARENESS
Using the same "smart connectivity" solution, pilots gain new situational awareness tools. Live weather and marine vessel locations are sent inflight to an intuitive EFB application ensuring crew can make decisions based on the most up-to-date information at all times.
DRIVING SAFETY
"We are always looking for ways to boost operational efficiency for our customers through the use of innovative, emerging technologies," said Dave Balevic, Senior Vice President of Engineering and Operations at CHC. "We are proud to be the first operator to utilize this solution. By streamlining our processes and sharing critical information between the air and ground in real time, we can deliver an even safer operation that removes opportunities for human factors errors while providing more immediate visibility into potential issues. We are very pleased with the results and look forward to expanding to a fully automated solution over the following months."
"This is an important historical milestone for Leonardo AW HUMS development, based on Leonardo's thirty years of experience with this technology," said Leonardo Helicopters Head of PSE & Licenses, Maurizio D'Angelo. "It also demonstrates Leonardo's commitment to the continuous development of leading edge technologies that enhance operational safety for our customers and improve the customer service offering. The successful real time in flight transmission of HUMS data has been achieved with the full collaboration of CHC and SKYTRAC and a tangible outcome of this teamwork is a solution that is designed to support commercial helicopter operations in a range of market segments."
"SKYTRAC is committed to delivering practical and effective real-time air to ground connectivity solutions," said SKYTRAC VP Sales Jan van der Heul. "This real-time HUMS and EFB project marks a significant step forward for SKYTRAC, CHC, Leonardo and the aviation industry as a whole. We foresee great potential to increase operational safety and efficiency and look forward to driving the rollout of the final solution."
A controlled rollout of the new technologies across the AW139 fleet is underway out of CHC's Den Helder base in the Netherlands.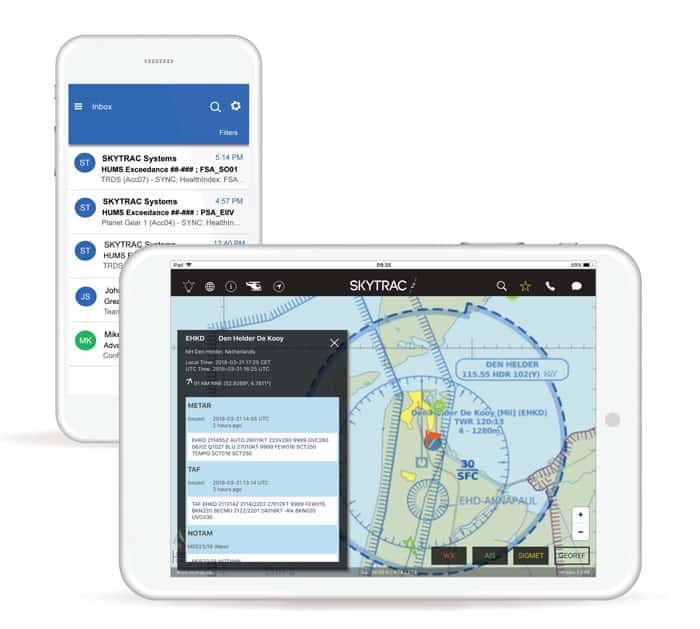 About CHC
For more than 70 years, CHC Helicopter has provided safe, reliable, cost-effective helicopter service in some of the most remote and challenging environments around the world. With extensive experience transporting customers in the oil and gas industry, supporting search-and-rescue and EMS contracts, and providing maintenance, repair and overhaul services, our dedication to safety and reputation for quality and innovation help our customers reach beyond what they thought possible. Visit www.chcheli.com for information.
About Leonardo
Leonardo is among the top ten global players in Aerospace, Defence and Security and Italy's main industrial company. Organised into seven business divisions (Helicopters; Aircraft; Aero-structures; Airborne & Space Systems; Land & Naval Defence Electronics; Defence Systems; Security & Information Systems), Leonardo operates in the most competitive international markets by leveraging its areas of technology and product leadership. Listed on the Milan Stock Exchange (LDO), in 2017 Leonardo recorded consolidated restated revenues of 11.7 billion Euros and has a significant industrial presence in Italy, the UK, the U.S. and Poland.
About SKYTRAC
SKYTRAC is aviation's full-service, data-driven solutions provider. Since 1986, SKYTRAC has pioneered the development, evolution and commercialization of flight following, flight data and communications technology. Today, with systems certified on over 900 airframes and an online data management portal that is the go-to tool for over 6,500 global users, SKYTRAC is truly the partner of choice for data-guided business insights. From performance trending and operations reporting to real-time asset tracking and situational awareness – SKYTRAC offers a one-stop response to meeting more of your company's needs. For more information go to www.skytrac.ca.
Cautionary Note on Forward-Looking Statements
This press release and other statements that we may make contain forward-looking statements. Forward-looking statements are statements that are not historical facts and include statements about our future financial condition and future business plans and expectations. Such forward-looking statements are based upon the current beliefs and expectations of our management, but are subject to risks and uncertainties, which could cause actual results and/or the timing of events to differ materially from those set forth in the forward-looking statements. The forward-looking statements speak only as of the date on which they are made and we undertake no obligation to publicly update such forward-looking statements to reflect subsequent events or circumstances. Should one or more of these risks or uncertainties materialize, or should underlying assumptions prove incorrect, actual outcomes may vary materially from those indicated.