Since he was a teenager, SKYTRAC's Zahaan Sait has aspired to work in aviation and aerospace. His lifelong dream has taken him across the globe from the United Arab Emirates, the United Kingdom, India, and most recently, Canada. Sait's rich career in aviation began when he graduated with a Bachelor of Engineering in Mechanical Engineering from Heriot-Watt University in Edinburgh, Scotland. He pursued further education at Cranfield University in Bedfordshire, England, attaining a Master of Science in Aerospace Dynamics. While he specialized in fluid dynamics during his bachelor's degree, his master's program focused on flight dynamic modeling and simulation.
Soon after completing his program, Sait leveraged internships and in-depth education to land a job in the aviation industry. His nearly decade-long career in aviation began in India. He worked at Genser Aerospace & IT Pvt Ltd as a Project Engineer and Flight Physics expert to develop system requirements and flight simulation models for light business jets. From there, Sait went on to work for Airbus on behalf of Altran Technologies as a Flight Control Engineer. 
It was his next role as an Avionics Systems Engineer at CAE where he implemented flight simulator upgrades for the Embraer ERJ170 and ERJ190 programs that aligned him most directly with current position at SKYTRAC. He contributes to one of SKYTRAC's most high-profile projects, one that will provide Embraer with a Global Aeronautical Distress and Safety System (GADSS) solution required in response to ICAO's recommendations.
Developing Leadership at SKYTRAC
SKYTRAC first piqued Sait's interest when he saw his LinkedIn connection share a press release on the SDL-350. Intrigued by the powerful Iridium Certus satellite terminal capable of broadband speeds, Sait dug a little deeper into SKYTRAC. 
In February 2021, Sait joined SKYTRAC's System Engineering team in Ottawa as an Avionics Systems Engineer. He initially worked on the SDL-350 program, where he helped the development of test plans and supported procurement. Since then, he has transitioned to being the Systems Engineering lead on SKYTRAC's novel Autonomous Distress Tracking technology, the ADT-5000, for the GADSS program. 
With his technical acumen and initiative, Sait has assumed the role of acting Project Lead on the federated Active Low Gain Antenna (ALGA) radome project.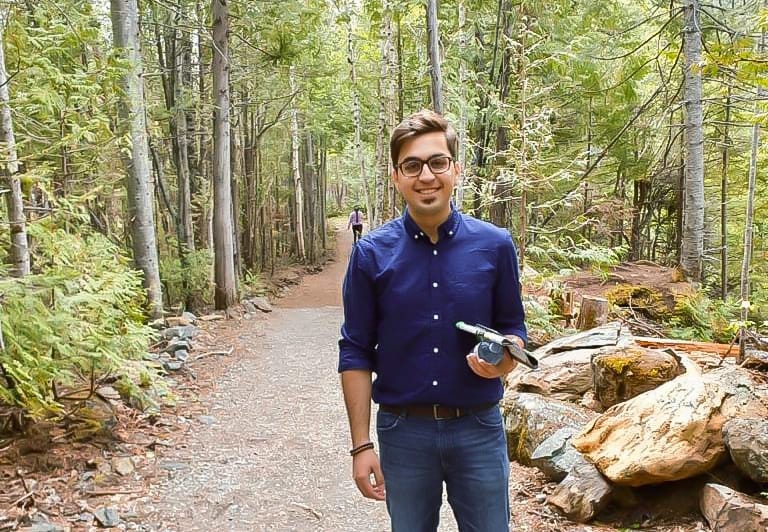 With Sait's globetrotting career, his passion for exploring new places and cultures is quite evident. Although Sait is settling well into Ottawa, he reflects that London remains one of his favorite cities in the world. Since the pandemic, although his passion for travel may have taken a back seat, it has made room for him to nurture other interests such as playing and watching sports, hiking, scoping out the local food scene, and even beginning his food blog – A Cup of Z. Sait has always found solace in cooking. After a long day, he enjoys unwinding by experimenting with different cuisines, ingredients, and recipes. He's never been one to shy away from trying something new. Sait has yet to explore the full breadth of Ottawa's food scene but has already landed on a gem that he highly recommends. For those in or around Ottawa, Sait suggests you try Pita Bell, a Turkish restaurant with delectable kebabs, sandwiches, and pita pies. 
SKYTRAC's #YoungTalent Series focuses on bright young minds who are just starting their aerospace careers. For career opportunities, please visit skytrac.ca/careers.