Iridium Certus® 100 is a globally available midband satellite service capable of up to 88 Kbps of bandwidth across aviation, maritime, land mobile, government, and IoT applications.
OPTIMIZED FOR SIZE, WEIGHT, & POWER
Optimized for solutions with strict size, weight, and power requirements, Iridium Certus 100 provides reliable, truly global connectivity for vehicles, vessels, and aircraft all over the world. With IP data speeds up to 88 Kbps and high-quality dual voice lines capability, Iridium Certus 100 is ideal to power critical apps, update flight plans, download the latest weather, and communicate through text and voice-based messaging.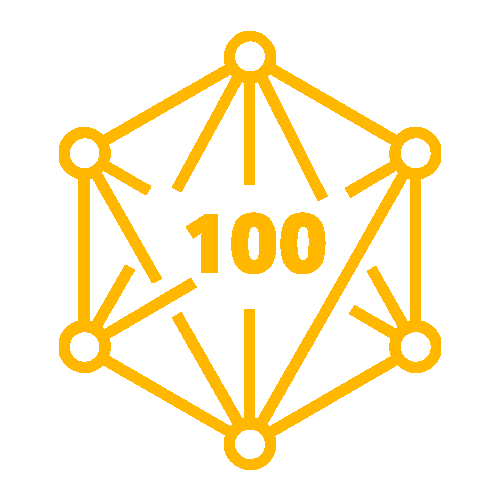 IRIDIUM CERTUS® 100 CAPABILITIES
Iridium's cross-linked network with overlapping spot beams provides reliable and truly global coverage, from pole-to-pole and at any altitude, and minimizes line-of-sight issues
IP data speeds up to 22 Kbps transmit and 88 Kbps receive (based on existing technology; capable of supporting speeds up to 88 Kbps transmit / 88 Kbps receive)
Industry-Leading Partners
Iridium Certus value-added manufacturers use our modules to develop innovative Iridium Connected® solutions, and Service Providers bring connectivity through these solutions around the world.
Compatible for Any Aircraft
Leverage installed or portable solutions to enable fast, efficient connectivity to update flight plans, download latest weather, and more
Iridium LEO constellation provides a shorter transmission path with less signal attenuation than GEO, resulting in faster connections
Iridium's L-band frequency is resilient to adverse weather with a 99.9% uptime reliability to ensure teams are always connected
Satellite voice-based communication for up to two (2) simultaneous high-quality voice lines
Reliably transfer optimized data files in real-time through midband data throughput anywhere on the globe 
Text-Based Web Browsing and Email
Multi-user access to emails and weather updates via midband Satcom
SKYTRAC has both midband and broadband Iridium Certus solutions for manned and unmanned aviation. Contact sales or download one of our product brochures to learn more.
SKYTRAC is a Value-Added Reseller (VAR) to Iridium, and offers broadband connectivity plans specific to your organization's needs. Contact us for pricing details.
Cuztomize your solution with optional antennas and accessories. Leverage HGA, LGA, and GPS antennas, optional controller interfaces, and more.
To learn more about Iridium Certus service plans and SKYTRAC terminals for aviation, please download one of our product brochures or contact sales@skytrac.ca.
Speak with a connectivity expert today. We are eager to discuss your business needs.